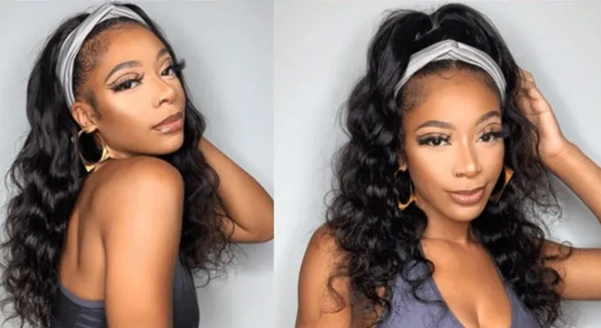 Wigs with headbands are currently a new style among the top trends that almost everyone is trying out on their YouTube channels.  It's convenient to put on and remove. It's made with a piece of material resembling a headband. If you look closely, you will see just a little tiny lump where the black headband sews on, stretchy soft part, having the sticky Velcro.
They Are Available in Various Styles
Wigs with headbands come in a variety of designs. Straighten, Water Waves, Curly, And Body Wave Wigs Are Among The Many Gorgeous Varieties Of Headband Wigs. You have the option of changing the headband styles.
Wigs with Headbands Are Comfortable to Use on Daily Basis
The Headband Wig is composed of 100 percent virgin hair, has no odor, and does not easily fall off. Because the cap is composed of breathable mesh, your scalp will remain calm at all times.
Wigs with Headbands Looks Real and Natural
When wearing a lace wig, you must place it across your hairline, which might obscure your natural hairline and make it appear fake. When you wear a headband wig, your hairline is evident even when the headband is worn or placed further back on the head, giving you a more genuine and fresh look. It's similar to wearing a headscarf with a hip and vibrant look.
The Headband Is Perfect for Every Woman
No matter your hair texture or size, you can use a wig with a headband. The headband's softness can help to relieve tension, headaches and prevent bald spots while securely holding your hairpiece in place.
Cover up for Bad Hair Days
Most ladies experience bad hair days. To avoid feeling the shame of undone hair, you can use a headband wig to cover up. You will still appear bright in such times. A Headband Wig helps to display off your facial feature while protecting your hair off your face.
Headband Wigs Are Durable
The headband wig is heat resistant. It has a thinner texture and lighter weight. The Wig's Hair Is Soft, Shiny, And Bouncy, Just Like Natural Hair Texture. Wash the wig with a mild shampoo and thoroughly rinse it in cold water to maintain its condition.
Headbands are Easy to Wear and Takeoff
Headband wigs are a simple to wear choice that only requires your natural hair to be brushed back or braided downwards underneath. Headband wigs are a fantastic alternative if you have less experience with wig applications. It not only eliminates the need for combs, clips, or glue, but it also seems more natural than lacy wigs.
They Are Affordable.
Lace Frontal Wigs are more expensive than headband wigs. The price of a headband wig is more affordable because it is a machine made and so many production costs have been cut off.
Headband wigs aren't going away anytime soon; it's safe to say. So, you won't have anything to lose if you got yourself a classy wig with a headband today. Do check with the Ishow beauty collections for the best prices and high-quality wigs.