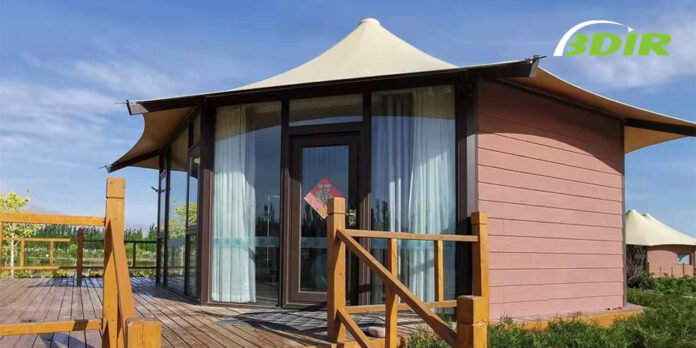 Do you still think that camping is the ideal getaway for you and your loved ones? Most probably not, especially when you figure out the idea of preparing to go camping. However, camping has reinvented itself into luxury glamping, where a luxury glamping tent is readily pitched. This should change your mind about camping. To novices, glamping, in a nutshell, is deluxe camping. Far from the traditional camping where you are supposed to carry a tent, sleeping bag, and a portable generator, among other stuff, in glamping, everything is already done for you in style and glamor. Some people refer to it as five-star camping.
Top secrets to best enjoy your luxury glamping tent
Are you afraid you will be disconnected from the world during your holiday? Don't worry; you can still enjoy your favorite movies or programs on the TV. Just make sure there is a power connection. Having a tent with power will enable you to watch TV, charge mobile phones, and light the room. Here are more tips to best enjoy your luxury glamping tent.
Have it for a romantic getaway
Luxury glamping should be on the top of the list during your anniversaries, birthdays, and honeymoon. For instance, the honeymoon is one of the best events in any relationship to strengthen the bond after a long courting period. Choose a romantic place that won't bring lots of inconveniences and will give you ample time. With this, you will love the tent experience.
Go for value for money 
Many sites worldwide offer glamorous camping with a variety of camping activities that will blow up your mind if you love adventure. The good thing is you don't have to break your bank to reserve a luxury glamping tent. Due to the increasing number of glamping sites, the competition is gaining traction, and companies are devising ways to give their customers the best experience. One of the tactics is to provide customers with the freedom to choose their tents according to their preference. You can therefore take the advantage to choose the best.
Don't compromise luxury
Luxury and convenience being the driving force behind the invention of deluxe glamping, your tent should not be a letdown. It should be able to offer absolute comfort even in its appearance.
Be color conscious
If it's a love affair, the common color associated with love is red. However, to be more creative, the tent can be of a different color to match the interior design. Colors are so critical in creating an illusion of a room. You should consider colors that create a cozy and comfortable environment perfect for lovemaking.
Watch on space
Sleeping on a big comfortable glamping tent bed can make your camping experience different. It gives a good night's nap better than the usual self-inflated air beds used during traditional camping. Go for tents with beds that have enough space.
Get your glamping tent today
Luxury glamping is undisputedly the next big thing that may revolutionize tourism. The internet is full of stories about beautiful experiences from camping enthusiasts. It would help if you did not keep it to yourself after the experience by ensuring a friend knows about the fun.