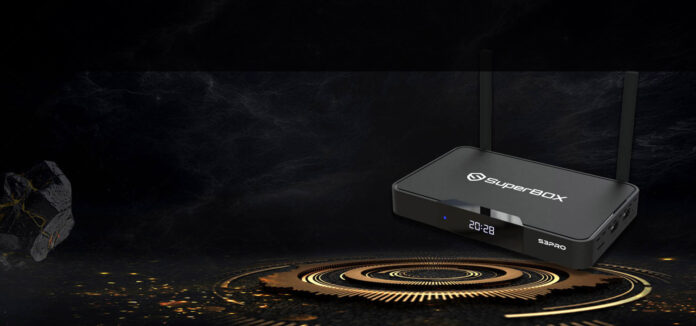 Superstream Box offers the top sporting events, premium entertainment, and services. They deliver the majority of live channels from around the globe to your television or computer.
So, you can choose from various collections to find the best superstream box that most closely matches your needs and interests.
Among them are:
Superstream M1 TV Box
The Superstream M1 is a good Android media player that lets you watch interesting videos. You can run multiple applications at once without experiencing delays because of its quad-core processor with a 2GB of RAM. On this device, you can also engage in gaming or video chat with loved ones, thanks to its quick connection to your home network made possible by the dual band WiFi of the device.
Advantages
You can store more music, movies, and TV shows on it because it has more storage space than other devices.
It enables direct streaming from Hulu Plus, among other online video resources, as well as YouTube.
Without having to pay a monthly subscription price, you can utilize Netflix and Hulu Plus.
Superstream M2 TV Box
The Superstream M2 is the best streaming gadget available. You can enjoy your favorite movies and television shows in the best quality possible because it supports 4K Ultra HD and HDR 10 content.
Numerous programs, such as Netflix, Hulu, and YouTube, are compatible with the Superstream M2. This is in addition to playing games that you've downloaded from the Google Play Store, all supported on a big-screen television.
Advantages
The box has a remote control, which makes it even easier to use because you don't have to search for particular buttons on your keyboard as you would on a regular computer.
There are no problems with watching videos from different websites, such as Vimeo and YouTube.
Additionally, you can play many other games that are available for download.
Superstream Elite
A complete home entertainment system is Superstream Elite. It has a voice control feature, a smart TV, and a streaming app so you can watch the most recent movies, albums, and TV shows. You can watch live HD sports, movies, and TV shows with the Superstream Elite box's unlimited bandwidth bundle without worrying about data usage.
For people who want to experience top-notch entertainment in their own homes, the Superstream Elite box is the ideal home entertainment system.
Advantages
Compatible with All Typical Media Formats All popular media formats, including MKV, MP4, AVI, MOV, and others, are supported by the Superstream Elite Android TV box. Playback of high-definition video is not affected by any problems.
A quick network connection You can browse the internet at a high speed and without any delays thanks to the Superstream Elite Android TV box's Ethernet connector and Wi-Fi connectivity. You may easily search the Internet and watch your preferred shows there!
Your Bluetooth keyboard or mouse can be connected to the set-top box using this feature. So, instead of using the keyboard or mouse, it makes navigation simple to utilize the remote control.
Conclusion
One of the top products that has created a global sensation is the Superstream TV box. With cutting-edge features that let you watch every sporting and entertainment event, Superstream TV Box is your go-to streaming device. It offers an outstanding media experience and is compatible with a wide range of applications. The manufacturers claim this invention has completely changed the scenario and is now the finest option for watching movies and sporting events. Get yours today and proof these claims!