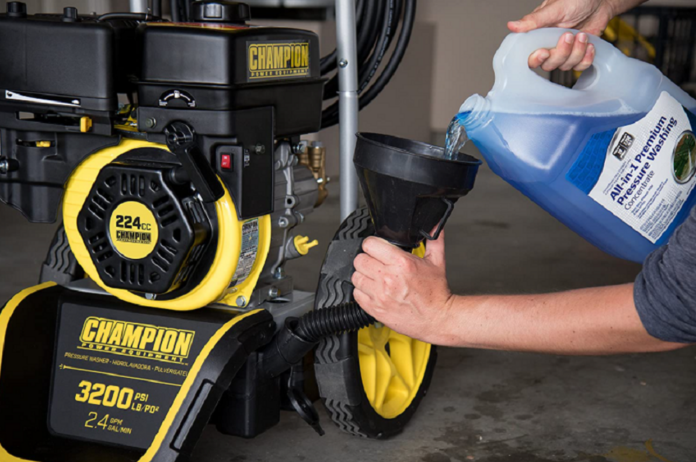 There's quite a bit of chemistry involved when it comes to pressure washing. What makes the process challenging is that not all chemicals work the same way for all surfaces. A pressure washer with chemicals is usually the best way to get an area back to normal, but what kind of chemicals are used can be as crucial as the actual power washer you choose.
It is clear that you should be familiar with some pressure-washing chemicals before using them. Here are some of the most commonly used by commercial pressure washing companies:
Oxalic acid
If you want to get the toughest rust removed, use oxalic acid since it is a chemical element that is spot on for rust removal. It does away with the rust and paint, dirt, and other stains that are not chemically compatible.
Citric acid
This chemical is used to treat stains and clean concrete or wooden decks. It can remove rust stains and mineral deposits from sinks, toilets, tubs, and other fixtures. Sodium hypochlorite, a solution of chlorine in water, is the active ingredient in household cleaners such as Clorox and Lysol.
Sodium hydroxide
One of the chemicals you'll encounter in pressure washing is sodium hydroxide, also known as caustic soda. This chemical is highly corrosive and can cause severe burns to human skin if it gets into the bloodstream. Hence, you must handle this chemical using great caution. However, the advantage of using this chemical is its ability to dissolve grease, sand, and dirt that might have accumulated on your home's interior or exterior walls.
Bleach
This chemical used in pressure washing is a mixture of sodium hydroxide and sodium hypochlorite. Bleach is a pH-balanced product that not only cleans but sanitizes and disinfects aggressively during pressure washing. It kills bacteria, viruses, mold, and mildew on contact. Be very careful when handling this chemical! This mixture of sodium hydroxides and sodium hypochlorite is forced at high pressure through the rest of the chemical tank under a spraying wand. The chemical reaction between this mixture creates chlorine dioxide.
Ammonia
One of the chemicals necessary for pressure washing is ammonia. It is a product of the natural decomposition of animals and plants. This pressure washing chemical is widely used in household items such as food preservatives, ice cream, shampoos, and other cleaning products. It prevents water spots and is usually the best chemical choice for cleaning glass and stainless steel.
Potassium hydroxide
The most common and affordable chemical used in pressure washing is potassium hydroxide or caustic potash. When mixed with a solution, a solid crystal becomes caustic potassium hydroxide (KOH), which can dissolve any grease or oil on concrete, grout, or anything else.
Pressure washing might seem like a simple task. You test your water pressure, select a nozzle, and turn the pump on for a few minutes. But in most cases, what you see is not entirely what you get. Using the wrong chemicals can ruin your valuable equipment or, even worse, injure someone.
Visit Giraffetools collection website for more about these chemicals and many more.