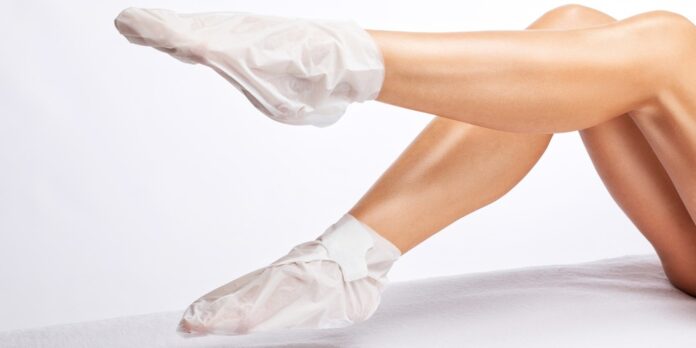 A foot peel mask is a cosmetic foot treatment that helps to exfoliate dead skin cells and promote new cell growth. Foot peel masks typically use fruit acids or other chemicals to loosen the bonds between dead skin cells, making it easy to slough them away.
There are various types of foot peel masks on the market, so how do you know which one is right for you? In this blog post, we will provide a few tips to help you choose the best OEM foot mask for your needs. Keep reading to learn more.
Tip #1: Consider Your Skin Type
The first step in choosing a foot peel mask is to consider your skin type. If you have sensitive skin, you'll want to choose a product that is specifically formulated for sensitive skin types. On the other hand, if you have tough, calloused skin, you may need a stronger formula to see results.
If you're unsure what your skin type is, consult a dermatologist or ask a local beauty supply store professional. They will be able to help you choose a product that is perfect for your individual needs.
Tip #2: Read Reviews
After narrowing down your options based on skin type, you need to go through online reviews of the products you're considering. You need to consider products that have got most positive reviews. You must stay away from those with many negative reviews. Reading reviews can provide a clear picture of what others have experienced when using a particular product and can help you make an informed decision about which product is right for you.
Tip #3: Compare Companies
When choosing a foot peel mask, it's important to compare different brands and companies. Look for a company that offers high-quality products, excellent customer service, and a reasonable price. Don't be afraid to shop around and look for brands that stand behind their products and offer return policies or guarantees.
Tip #4: Duration of treatment
You must consider the duration of treatment when choosing a foot peel mask. Some masks are designed for quick treatments and can be used once or twice a week, while others require more frequent applications. Choose a product that fits into your schedule and lifestyle so you can get the maximum benefit from the treatment.
Tip #5: Follow the Instructions
Once you've chosen a foot peel mask, please ensure to follow the instructions on the packaging carefully. Some foot peel masks need to be left on for only 10-15 minutes, while others need to be left on overnight. Please ensure to read the instructions carefully so that you don't accidentally leave the mask on for too long or not long enough.
Conclusion
Choosing the best foot peel mask for your needs doesn't have to be difficult. Just consider your skin type, read online reviews, and follow the instructions on the packaging carefully, and you'll be sure to find a product that works well for you. Thanks for reading.