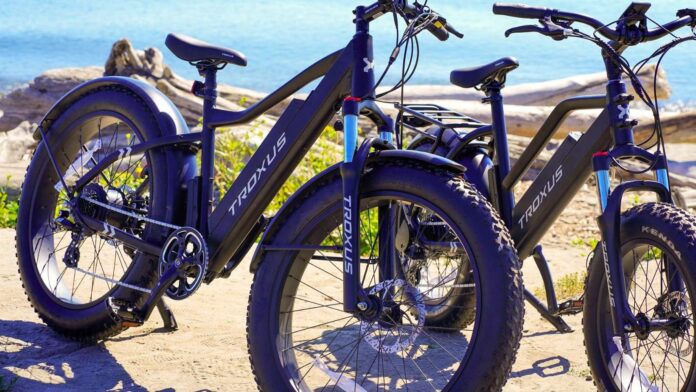 Ready to hop into the world of electric bikes and want something perfect for yourself? Look no further than the Vulcanus 26″ E-bike. This bike is a powerful and stylish ride that is sure to turn heads. It is equipped with powerful features that both beginner and experienced riders alike will enjoy.
In this article, we are going to look at some of the most unique and beneficial features of the Troxus-manufactured e-bike. Let's explore the features this bike has to offer. Read until the very end to know if it is worth investing in!
Amazing Features of Vulcanus E-bike
Following are some very cool and advantageous features of the 26″ vulcanus e-bike:
Powerful 750W Rear Hub Motor
The Vulcanus 26″ E-bike packs a powerful punch when it comes to its motor. It comes with a high-torque 750W rear hub motor, allowing an effortless ride up steep hills or inclines. The motor provides enough power to reach speeds of up to 28 mph, but it also has three levels of pedal assist and a throttle mode, so you can choose the amount of support you need on your ride.
Removable Samsung 48V 16A Battery
This e-bike also includes a removable Samsung 48V 16A battery, which offers long-lasting power on every ride. The battery is lightweight and easy to remove, so that you can charge it in any convenient location. With just one full charge, you can get up to 40 miles of range on this e-bike!
Disc Brakes
The Vulcanus 26″ E-bike has disc brakes that provide reliable stopping power in wet and dry conditions. The brake pads are made of high-quality material that ensures maximum stopping power while maintaining consistent performance over time. You don't have to worry about your safety while riding this bike, as it has been designed to keep you safe in any situation.
Adjustable Suspension Fork
The Vulcanus 26″ E-Bike is designed with comfort in mind—it comes with an adjustable suspension fork that helps absorb shock from bumps along your way. Whether riding on a smooth path or uneven terrain, this feature will help keep your journey comfortable and enjoyable.
Strong Upgraded Aluminum Frame
This bike also features a strong, upgraded aluminum frame that makes for an incredibly sturdy ride even at higher speeds. The frame is lightweight yet durable, so you can be sure that your e-bike won't break down quickly, even after rough trails or terrain rides
7-Speed Gear Shifting System
The 7-speed gear shifting system offers riders control over their ride, allowing them to choose from seven different speeds depending on their preference and the terrain they are cruising on. The efficient design of this system will make it easier to switch between gears to enjoy your ride without any interruptions or delays. This feature is beneficial for those looking to have an enjoyable and smooth biking experience.
To conclude
The Vulcanus 26″ E-Bike offers all kinds of exciting features for anyone looking for their first electric bike experience or those who are already familiar with them. It is truly a remarkable machine that offers riders all the features they need for an enjoyable ride each time they take it out for a spin!
All the above-given features make this e-bike perfect for riders who want a fun yet safe experience while exploring nature or commuting around town. So don't wait any longer – get out there and start riding!